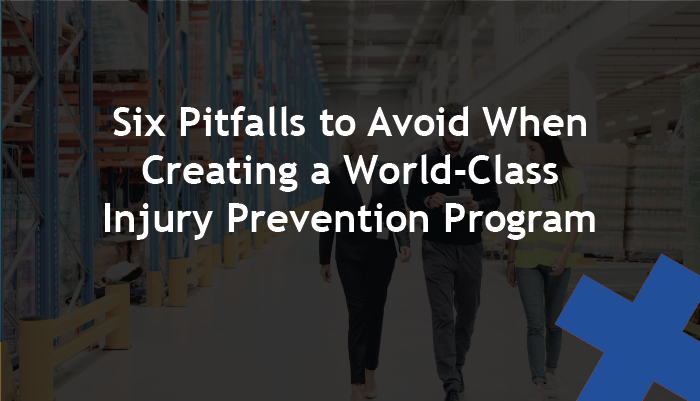 In the previous weeks, we've discussed two of the most common pitfalls we see in working with an organization to create a world-class injury prevention program – believing all risk can be designed out and thinking employees won't embrace technology. In part three of our Six Pitfalls to Avoid When Creating a World-class Injury Prevention Programs we will explore the common pitfall of seeing dollar signs and nothing else with the pitfall equating program with cost and not return.
Businesses are built to make money. This is a common truth no matter the industry, geographic location, or product/service. When it comes to spending money, it's critical that dollars be spent strategically and garner results. Research indicates when a company invests in reducing employee discomfort, they gain more than 5 ½ hours of productivity from them, each week. This impact has a direct impact on the quantity and quality of product employees are producing and significant implications on the bottom line.
In this blog, we will discuss why smart companies look past the initial program cost and consider the return on investment when creating an injury prevention program.
Seeing Past the Cost of a Musculoskeletal Injury Prevention Program
At times, when initially proposing the Briotix' comprehensive musculoskeletal injury prevention program, upper management will simply focus on the cost of the program. Wisely, they want to know what they are getting for the cost and can be apprehensive about the cost of a quality injury prevention program.
This was the case with one of our large retail clients. When Briotix started working with this client, the company had a claims manager who was extremely invested in an injury prevention program and instantly saw the benefits the Briotix solution could offer employees. However, the company's upper management was less sold on the idea of impact the program could have on the bottom-line. She was a true champion of the solution, however, and convinced management to bring us in at one of her company's locations as a test. Upper managed wanted data that our cost was worth the investment.
A Big Impact on the Bottom line
The Briotix solution was implement at just one location with the support of the every on-board claims manager. After one year of working with the location, the results were reported back to company management. In just one year, the company saw a 65% reduction in injuries and a 177% reduction in days off due to injury. All of this resulted in a nearly 23% reduction in costs totally more than $150,000. Based on these results, the company invested in expanding the solution to their remaining locations and similar results have now been seen, company wide.
Contact Us for a Free Consultation to Learn More
With nearly 70% of the nation's workforce suffering from discomfort, addressing employee pain is critical to every company's bottom line. Briotix offers a comprehensive musculoskeletal injury prevention program that will improve the health of your employees and increase productivity, improve presenteeism, and save money.
To learn more about the Briotix solution, contact us today to schedule a free consultation.