In previous weeks, we have discussed a number of pitfalls in our series Six Pitfalls to Avoid When Creating a World-class Injury Prevention Programs including thinking all risk of work-related injury can be designed out, believing employees won't embracing technology, and equating a superior musculoskeletal prevention program with cost instead of return. In this blog, we are going to be discussing a pitfall our Client Managers see all too often – forgetting that employees only have one body by silo-ing employee health issues.
The Flaw of "Silo-ing" Musculoskeletal Health
"Silo-ing" is a flaw we see from time to time in all industries. The idea of "silo-ing" is a simple one – when operating in this mentality, the company chooses to actively segregate employee health issues between something that happens on the job versus what happens when the employee is away from work. In our experience, this "silo-ing" is short-sided and prevents management from seeing the whole picture when it comes to employee health and the impact it has on the company's bottom line.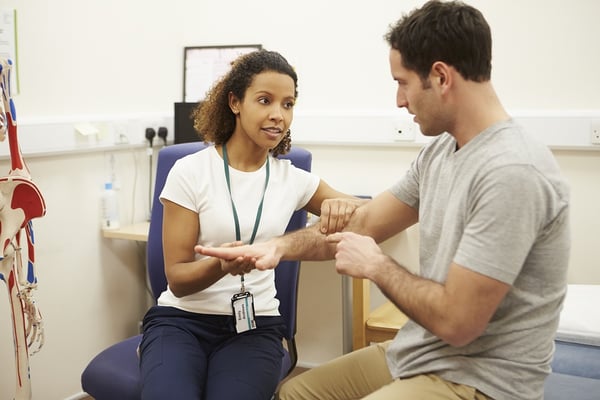 A client in the food distribution industry has historically insisted that our onsite prevention specialist only provide treatment for symptoms that are work-related. For years, the Briotix solution has had great resolution rates with work-related injuries but our onsite specialist is only seeing a portion of the employees with pain. Why? The company is wishfully thinking that any type of injury or pain that happened off work will stay an "off work" issue and does not allow those employees to seek prevention or rehabilitation services.
The flaw in this type of "silo-ing" is that employees only have one body. An employee is not magically able to check the one body at the door that is strained and then step into the other non-injured body to go to work. While the pain may not have come from an injury at work, it surely impacts the employee's ability to effectively and efficiently complete tasks.
Employee Musculoskeletal Pain Impacts Productivity
Research indicates that an employee in pain loses up to 5 ½ hours of productivity per week. That loss of productivity happens no matter where the injury occurred. So, while this company would like to operate under the model that what happens off work, stays off work, research tells us that is not the case.
In addition to the loss of productivity suffered by both the worker and the company, an employee that brings an injury from outside of work is more susceptible to injury while on the job. This means the off-site injury is more likely to turn into a valid work-related injury and worker's compensation claim if the initial pain is not addressed.
Contact Us to Learn More about OnSite Solution
For the employees of the example provided above, there is good news on the horizon. As of a few months ago, after years of operating in a silo-mentality, the company has decided to change their practice and allow for employees to receive services regardless of where they developed the pain. Our experts are confident that will not only improve productivity but also reduce worker's compensation costs since the many injuries will be addressed prior to developing into a claim.
Briotix offers comprehensive on-site prevention and rehabilitation services that will reduce employee pain, improve productivity, and significantly lower a company's workers' compensation costs. To learn more about our services, contact us today for a free demonstration. Give us a call or complete the online contact form and we will contact you.