For many companies in the food and beverage industry, employees are valued as the company's most important asset. But beneath that simple statement, lie a plethora of questions. If your workforce is your most important asset, are you regularly investing in it? Companies readily invest in scheduled maintenance of equipment but are you doing the same for your employees? How do you invest in your employees while improving the ROI for your business?
Investing in the health and safety of employees is one aspect in the ongoing maintenance of a workforce. This includes addressing employee discomfort and pain. Research has shown that when an employee feels their pain and discomfort is being attended to, they are more engaged and in a desirable state of mission commitment. Why is increasing employee engagement so critical? According to a recent Gallop study, organizations with highly-engaged employees experience a significant array of operational metric improvement with an amazing 41% reduction in quality incidents or defects. In other words, when employees are engaged, they make less mistakes, saving a company money.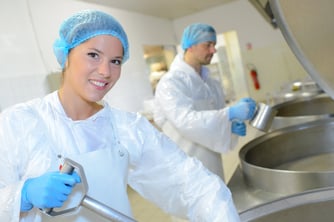 Additionally, when a company invests in employee wellness workforce productivity increases. Research suggests that when organizations reduce discomfort with their employees, their productivity increases 5.5 hours per week per employee.
Impacting the Bottom Line
Implementing a Briotix human performance solution, has shown to have significant impact on protecting the total health of a workforce, while driving engagement and increasing the bottom line. According to a Senior Executive at a food processing company, when asked about his experience with implementing the Briotix solution he said, "Last year, we increased our sales by 73% and our profits by almost 80%. This year we are expecting to double both those achievements. We attribute our global success to our proven quality. And that comes, in significant part, from our workforce."
Over a three-year period, Briotix's solution has significantly reduced the number of injury claims submitted by employees in the food and beverage industry. Below is chart detailing the impact.
Claim costs
Pre-Program Average
$554,810.03

Briotix Service Implemented:

Claim costs year one

$226,847.81
Claim costs year two
$183,393.44
Claim costs year three (annualized)
$40,593.82
Total reduction in claim costs
$1,213,595.02
Learn More
At Briotix, our Food and Beverage portfolio is both broad and deep. We understand that in the Food and Beverage industry, quality is your driving factor. With our unique performance solutions, we can help you improve engagement, increase productivity, and contribute to your bottom line. To learn more about our solution or begin a no-cost pilot program at your company, contact us today. Give us a call or complete the online contact form and we will contact you.