I started at Briotix Health in late August. Less than two weeks after joining the company, I was informed that there was a need for a provider to head to the East Coast to service crews who were working hurricane relief for Hurricane Florence; despite my limited experience with the company, I immediately wanted that person to be me.
For the entirety of my career (8+ years), I'd worked in the collegiate setting, but I saw this as the best way to learn and grow in my new field of Occupational Health. Plus, with the natural disaster looming, I knew support was needed and I just wanted to help however I could.

Into the Eye of The Storm
Shortly after walking in the door from another client site, my phone rang informing me I was needed in North Caroline. My flight was to leave in less than 6 hours from an airport that was more than an hour away. I packed for all conditions and was told to be prepared to not be able to do laundry for the entirety of the trip. I packed 75% of my closet into one bag and was on my way.
I made it to Greensboro, NC, picked up my rental, and was in the hotel within 12 hours of receiving the initial phone call. I remember thinking, "Boy, this was the easiest travel I've ever had. This is going to be a smooth trip!" It soon became clear to me that my experience was never more evident than with this initial thought.
Day 1

I went into the day thinking I would have preparation time in the area and get up to speed on how best to service responders. I wasn't expecting to have many interactions with employees that day, but the eight hours of downtime proved to be way busier than I imagined.
Instead of time to prepare, my first day was spent working with crews who were staged in a mall parking lot waiting for their orders. Time was spent helping lineman helping relieve pain from pre-existing injuries – old knee injuries, low-back discomfort, ankle discomfort from stepping in a hole. During these initial conversations and evaluations, I learned so much about what exactly linemen do and developed a true appreciation for their work. Our conversations revealed all these crews had traveled overnight for 10+ hours to get here only to be put on stand-by for another 8 hours. Their dedication to the relief efforts and commitment to their work was evident.
After a full 8 hours of working with the crews, I started what was supposed to be a 4-hour drive to the coast. Multiple people were working on finding accommodations for me for the next two nights but that was easier said than done since everyone displaced by the storm was also looking for accommodations. I drove for about three hours to realize there were no hotels available within a 2-hour radius. After much searching, I finally got the last room at an Inn, unfortunately, that Inn was 90 minutes back in the direction I had just come. I got to the 80's inspired Inn in the waning hours of the day and shared travel stories with an insurance adjuster who was equally delighted to have found a room for the night and made my way off to get a few hours of sleep.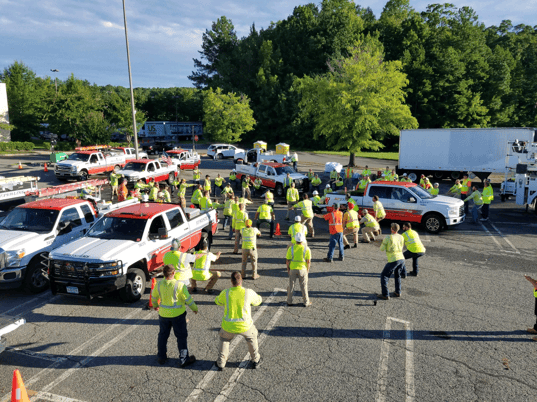 Day 2
An early departure the next morning yielded roughly a 3-hour drive. Upon my arrival in the area, I met up with the Safety Professional who explained that the crews had already been working for a few hours. As I stood there and took note of the surroundings, the gravity of the situation hit me: hundreds of thousands of people, homes, and businesses without power; utility crews pulling 16-hour long work days in the hot and humid environment with nowhere to sleep; trees and debris down everywhere.
Due to job site locations being very difficult to get to, the Safety Professional (SP) and I determined that it would be easiest for me to set up a triage station near the initial location and stay on standby for any crew member that may need assistance. I decided to drive around and hoped to find a business that had power and internet. I was able to find a cafe whose owners were working on cleaning up the flood damage. The cafe had power and to the surprise of the owner and employees, wireless internet access. They definitely weren't open for business, but the owner was nice enough to allow me to occupy a comfortable chair in the corner.
As I sat there, I couldn't help but think how large of a recovery process storms create. Up to this point, I had been privately questioning my decision to transition from the collegiate setting to the occupational health setting. While I sat in the storm-riddled cafe, thinking about the conditions these linemen and other utility and relief personnel were subjected to, I realized the true power of our services.
Luckily, there were no situations that required my assistance that day, so I returned to my hotel to pack for the next leg of the trip.
Day 3
I was up and gone early again on day three to meet the SP at a different location. Rather than sit and wait for linemen to come to me, I was able to ride with the SP to visit multiple crews at their field locations. It was really eye-opening to see the conditions these crews had to work in and I was amazed at how they were able to do their job in some of the disaster areas. Most of the locations were flooded, muddy, or in the middle of a swampy bog yet they were always able to get the job done.
The day flew by as I provided relief to crews for nearly 10 hours. After finishing with the crews, I started on my way to Wilmington.
According to Google Maps, the trip to Wilmington was supposed to take about 2 hours; however, due to road closures, the drive took nearly four. Seeing as how Wilmington was hit hard by the hurricane, finding accommodations for my two nights there was next to impossible. Luckily my supervisor was able to find a hostel that had a room available still. I think I was the only person not hesitant to book a room in a hostel, largely because I've stayed in many during my years of traveling while hiking. I was happy to finally reach my destination and lay down for a few hours of rest.
Day 4
The next morning, I was up and gone and on a search for breakfast. Finding a restaurant that had power was hard enough and finding one that had power and food was impossible before 7 a.m. I did find a grocery store with a few granola bars left, so I snagged them.
After connecting with the SP, I lead crews through an active warm-up in preparation for their grueling work. Once the crews headed out, I set up a triage station. I fielded a few phone calls for health consultations and had time to visit crews in the field to deliver relief.
By the end of the day I was really starting to feel the long days, difficult travel, and a diet much different than my normal. After I left the crews that evening, there was still enough daylight left for me to walk to an area with a row of restaurants. To my surprise, (I don't know why at this point) it was a ghost town. There was next to nothing open, so I found myself getting my steps in while searching for dinner. I landed at a local Sushi restaurant with a phenomenal staff and really enjoyed getting their perspective of what it was like to go through the storm.
Day 5
I was scheduled to spend half of the day with the crews on day five then depart for home late in the morning. I arrived at the triage location and lead crews through the warm-up, however, just after finishing the warm-ups, I got a phone call from another SP who was with crews working elsewhere in the city. They had an employee who had gotten involved with fire ants and taken the employee to the emergency room. I decided to take a short detour on my way to the airport and met with the employee and SP. After providing recommendations for the remainder of the time the employee would be in North Carolina, I departed for the airport to return home.
Understanding the Importance of My New Role
All-in-all this experience was one for the books. Not only did I learn more in those five days than the previous two weeks about my new role, but it really solidified my understanding of the value an Industrial Sports Medicine Professional can bring to the occupational health setting. Everyone I interacted was very appreciative. I heard multiple times how much our services were needed and the difference having the relief made for those linemen working the disaster.
I also developed a new appreciation for the hard work of those working the disaster. I never once heard a person complain about the harsh, unaccommodating conditions or the work that needed to be done. My awareness for the work that goes into providing electricity has been forever changed. Although this was an unfortunate situation, it was a valuable learning opportunity.
If the situation arises again, I'll have no problem going back into the eye of the storm.
About The Author
Cody is an Industrial Sports Medicine Professional for Briotix Health. He is a board certified Athletic Trainer with a Bachelor's Degree in Athletic Training from the University of Central Arkansas and a Master's Degree in Health and Human Performance with a concentration in Exercise Physiology from McNeese State University. He came to Briotix Health after spending more than 8 years at Division 1, NCAA institutions.