With the outbreak of COVID-19, many companies found themselves suddenly, and perhaps unexpectedly, thrown into managing a digital office workforce. Now, as states begin to slowly reopen, many are having to navigate how, and even if, they will bring their workforce back to their brick and mortar locations.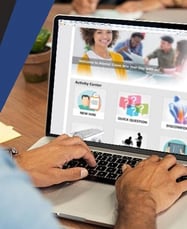 For companies who are considering a semi-permanent or permanent work-from-home workforce, technology will be key to success. Leveraging virtual environments will emerge as a big piece of this technology management along with managing new considerations for employee health, wellness, and productivity.
If you're considering establishing a digital workforce, watch our free webinar on the effectiveness of virtual ergonomics, "Making Virtual a Reality: Office Ergonomics in the Post COVID-19 Workplace". In this educational webinar, Julie Landis, Vice President of Briotix Health will discuss:
The new norm of working from home and leveraging virtual environments
The costliness and commonness of ergonomic injuries
The benefits and challenges of virtual service models
Case studies highlighted will explain how the implementation of a virtual ergonomics program can improve employee health and save companies' month. The presented data will highlight:
The overall effectiveness of virtual ergonomics in lowering employee injuries
The cost reduction of virtual services when compared to onsite programs
The efficiency of virtual ergonomics allowing for more employees to be serviced
Learn how your company can start leveraging technology to improve employee health and your bottom line.