Work-related musculoskeletal injuries (MSD) are among the most frequently reported causes of lost or restricted work time, across all industries. In fact, according to the Bureau of Labor Statistics, MSD cases account for more than 33% of all worker injury and illness cases.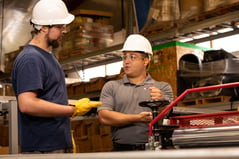 These work-related MSDs can be prevented. Implementing an ergonomics program helps lessen muscle fatigue, increase productivity, and reduce the number and severity of work-related MSDs. But in the COVID-19 era, many companies are left wondering how to implement a new ergonomics initiative or continue an existing program due to logistical challenges and CDC hands-off regulations.
In this webinar, attendees will learn what elements must be included to have a successful industrial ergonomics program and different techniques to integrate those principles remotely. Additionally, participants will be given the tools to enhance and modernize their ergonomics program.
To learn more about creating a virtual industrial ergonomics program, watch this free webinar "Contact-Free Industrial Virtual Ergonomics in the COVID-19 era – It's Not Just Possible, It's Effective" which originally aired on Thursday, September 10th at 2:30 p.m. EST.