ErgoFit is a fully customizable program that Briotix has crafted to address the many needs of employers in injury prevention and employee wellness. One business that went through the implementation of ErgoFit is Amgen, one of the world's leading biotechnology companies. Like many businesses in this field, Amgen's workforce is comprised of office work (64%), laboratory work (25%) and industrial work (11%). Amgen enlisted the services of Briotix after calculating that 1 out of 3 on the job injuries were categorized as ergonomic-related and 14% of the injuries had occurred while performing industrial tasks. Executives saw that some additional training on ergonomics could benefit their employees.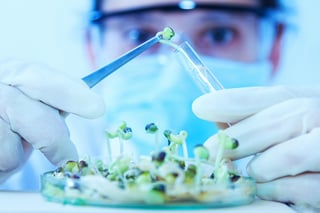 Amgen and Briotix worked together to determine that a mix of strategies was needed to address these concerns. They looked at incorporating solutions regarding their equipment, engaging all staff members, and how to handle the administrative side of this endeavor. To help envision the complexities of this project, ErgoFit was presented as a full customizable solution. ErgoFit uses three pillars: Risk Assessment, Training and Wellness.
The training incorporated both instructional and hands-on instruction, including self-assessment tools for employees to use.
To start, full time employees completed at least 3 hours of training on the ergonomics of their position. Supervisors completed at least 5 hours, learning both the staff training as well as completing leadership training. As each department at Amgen is managed independently, the implementation was administratively intensive and Amgen and Briotix had to worked together to accommodate the needs of individual groups.
The payoff was worth the effort. In the subsequent three years, Amgen saw a 75% reduction in industrial related ergonomic injuries and a 79% reduction in OSHA recordable industrial-related ergonomic injuries. On the other side, the employees of Amgen saw that the company cared about their health and safety.
Amgen credits a few key elements to their success. First, since they are a production facility, it was important that the training catered to the production schedule. Tailoring the program to separate departments by offering the training in each group's own building helped, as did the designation of "Floor Coaches" by the staff. But overall the staff was the most important aspect of implementation. They took a collaborative approach, saw their ideas being used and team members worked together to resolve any issues which came up.
Amgen has enjoyed the benefits of ErgoFit that go beyond the reduction of injuries. They see the investment paying off in increased efficiency and wellness and the integration of good ergonomic work practices into daily life. ErgoFit in action can go beyond the workplace, helping employees to live safer lives at home and in the future.
Could your company benefit from this fully customizable solution?
Contact us to schedule a call with one of our team members.