Shelby Spencer, CTO of Briotix Health, will be featured on a panel of technology experts on Zoho Creator's "Tech Table Talks" to discuss how low-code platforms can help businesses in digital transformation.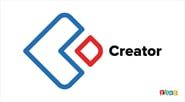 The free webinar, "The Digital Workplace: Enabling a digital workplace with low-code platforms", will be hosted on Tuesday, April 28, 2020. Shelby will be discussing the impact COVID-19 has brought upon businesses and the need for organizations to accelerate their efforts to provide employees with a workplace that is physically distributed, but virtually closer than ever before.
"Right now everything, absolutely everything, is about health and safety, virtual access, and value," said Shelby. "The realities of a potential economic depression are creating additional mandates for technological change even above and beyond the harsh operational realities imposed by social distancing."
She joins the panel as an expert in building interactive technology applications on low-code platforms. As the architect of the Briotix Health systems, built on Zoho platforms, Shelby's work supports millions of virtual and technology-enabled employee injury prevention and health service interactions per year with Briotix Health clients. Her work has helped to position Briotix Health as a leading innovator applying next-generation technology to support the working athletes that Briotix Health serves.
In the webinar, panelists will discuss:
The current socio-economic situation, and how it will accelerate digital transformation across the globe
What a digital workplace will look like in the post-COVID-19 era
What functions will adapt more quickly with technology
How organizations should be using low-code platforms
What are the challenges faced in this journey
The webinar is free and open to the public. To register, visit https://prezoho.zoho.com/creator/webinars/enterprise/enabling-digital-workplace.html