When it comes to preventing common office-related injuries, many people think setting up your office in a proper ergonomic position will prevent any future discomforts. While an ergo-friendly work environment is the first step, preventing common musculoskeletal injuries in an office setting is about more than just proper ergonomics. Incorporating microbreaks, counter-stretches, and movement exercises all play a role in reducing the risk of musculoskeletal injury.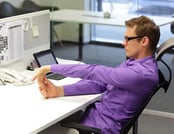 In our upcoming webinar, "Three Common Office Injuries and Tips to Prevent Them," expert Lyndsay Trefzger will discuss the most common types of injuries experienced by office workers and provide injury prevention strategies that can be implemented to avoid suffering the discomforts.
Trefzger, a Corrective Exercise Specialist and Athletic Trainer, has helped thousands of employees reduce the risk of suffering musculoskeletal injuries with her knowledge of body mechanics and anatomy. In this educational 45-minute webinar, she will discuss:
Causes of common office work-related injuries

Strategies to implement to reduce the risk of injury

Basics of general stretching and strengthening exercises to address discomforts
Join us, Thursday, January 28th at 2 p.m. EST for "Three Common Office Injuries and Tips to Prevent Them."
The capacity for this webinar is limited. REGISTER NOW so you don't miss out.