In 2015, Briotix saw a great need in the marketplace. Having heard time and time again from clients that they wanted an online version of the services offered by Briotix, the company set out to create an industry-leading workflow platform that would improve worker health outcomes and optimize operations.
After a few short months of intense work, Briotix.Works was launched in October 2015. Gradually, over the past two years, new material has been released making the system a complete and customizable client solution. With Briotix.Works, customers can personalize their program to meet their specific and unique needs.
According to Shelby Spencer, Head of Business Transformation & Technology Services, "Briotix.Works was built to address the complexities of individual industries and businesses. With this platform, Briotix has brought next generation technology to the market that is not only instantly meeting employee needs, but also allowing managers to make data-driven decisions."
An Instant Solution to Meet Unique Industry Needs
Briotix.Works was intentionally designed to offer customers the unique solutions they need to meet their individual needs. With this platform, there is no more all or nothing. Customers can create the precise platform that best addresses employee health outcomes for their business.
At Briotix, we are committed to honoring the uniqueness of our customers and Briotix.Works does this in four ways.
Flexible and Readily Available
The Briotix.Works platform is built to offer flexibility to our customers. Much like an a la cart menu, customers can choose which aspects of the system works best for their environment. Once that is determined, the platform can be customized and implemented immediately.
Cutting-Edge and Modern
With the Briotix.Works platform, significant investment has been made to use the latest Artificial Intelligence (AI) technology. The platform optimizes the experience for both the employer and employee by using best practices algorithms to improve the user's experience. Users get options and freedoms with the system based on their preferences, but are still consistently supported on employer policies.
Easy to Use and Self-Assess
Once Briotix.Works is implemented in a company, employees have instant access to comprehensive training, tools, support, and self-assessments. With our easy-to-navigate screens and processes, employees can engage in extremely valuable content in a meaningful way. Additionally, there is no more having to wait for support if an employee is in need. With Briotix.Works, employees can instantly get their problem addressed.
Real-Time Data for Smart Decisions
From the inception of Briotix.Works, data and metrics were always going to play an integral role. With this platform, managers can get real-time data to make strategic decisions. It is our goal to provide data that allows our customers to ask hard questions to get meaningful answers.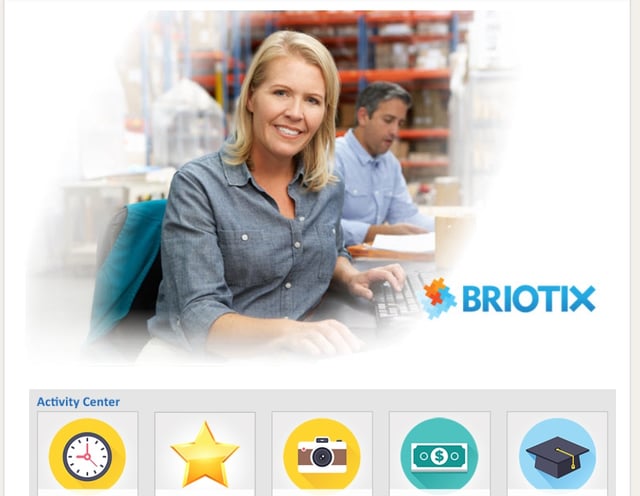 Learn More about Briotix.Works
With more than 300 companies currently using the system, Briotix.Works has seen tremendous growth over the past two years. And yet, Briotix is as committed as ever to providing a unique, online solution to our customers that meets their individual needs. The Briotix.Works solution is improving the health outcomes, instantly addressing employee needs and saving companies money.
Give us a call at 844-274-6849 X112, or complete the online request form and we will contact you to learn more about our customizable Briotix.Works solution.