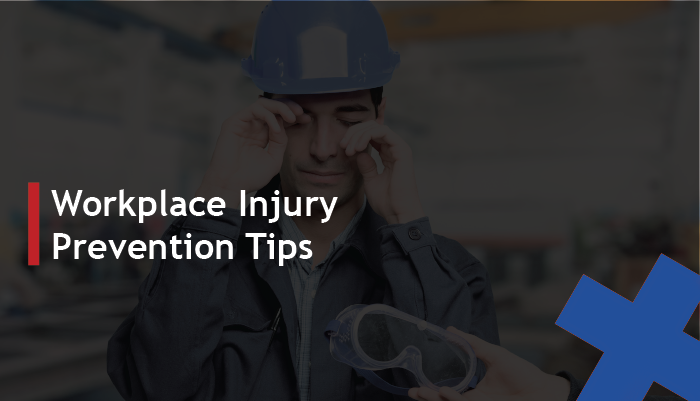 According to the US Department of Labor, workplace accidents cost an estimated $1 billion per week in this country. Of those injuries, nearly 65% are preventable injuries such as slips, falls, and overexertion.
In addition to the workers' compensation costs to a company, workplace injuries have a major impact on a number of people – the injured employee, family members, and co-workers. This impact can be felt with medical bills, lost productivity, and low worker morale. Injury prevention is the best way to avoid these and other costs.
Workplace Injury Prevention Tips and Accident Prevention Techniques
Want to create a safer work environment but aren't sure where to start? Here are nine ways to reduce the risk of workplace injuries.
1. Evaluate Injury Data
The first step in reducing your company's injury rate is to research the current injury data. Once you have a better idea of how employees are being injured, you can appropriately address the needs of your company. This ensures resources are being spent in the best way to ensure the best outcomes for employees and the company.
2. Develop a Safety and Wellness Plan
An effective safety culture is built on the development and implementation of a comprehensive injury prevention and wellness plan to addresses the specific needs of your company. This can be learned from your historic injury data. In creating the program, all levels of employees should be brought to the table to ensure the program meets the needs of all stakeholders.
3. Identify the Hazards
One of the greatest ways to reduce the risk of work-related injuries is to identify and address hazards in the workplace. Eliminating hazards in the work environment can be as simple as clearing boxes from a common walkway or may require a bit more effort such as completing job analyses which help identify the unique hazards of the physical requirements and tasks of each job.
4. Get Up and Move Frequently
Requiring frequent movement breaks is a great way to reduce the risk of injuries. Sedentary bodies are more likely to become injured. A good rule of thumb is getting up to move for one minute every 60 minutes. This allows the blood to better flow and for your muscles to move to a new position, greatly reducing the risk of musculoskeletal injury.
Related: 11 Injury Prevention Exercises You Can Do at Work
5. Keep a Clean and Orderly Workplace
In the United States, 1 in 6 of all lost-time injuries is the result from a slip, trip, or fall. Reducing the risk of one of these types of injuries is easier than many think. Maintaining a clean workplace, where you can easily move around without fear of bumping into a piece of equipment, box, or other hazard, is one step you can take to reduce simple slips, trips, and falls.
6. Pay Attention to Ergonomics
Musculoskeletal injuries, such as sprains, strains, and tears, make up more than 30% of all work-related injuries. Using ergonomically designed furniture and equipment, keeping supplies within arm's reach, and creating a work space that allows employees to work in a neutral position are three ways to address the ergonomic needs of employees.
Related: What Is Ergonomics? (Plus Its Importance in the Workplace)
7. Require Employees to Wear Personal Protective Equipment
Research is very clear on Personal Protective Equipment (PPE) – there is no greater way to reduce an employee's risk of injury than to require them to wear PPE devices correctly. PPEs can include but are not limited to proper work shoes, safety glasses, hard hats, and full-face masks.
8. Provide an Avenue for Employees to Speak Up
When it comes to identifying potential hazards in the work place, the best source of identification is employees. Companies need to create a way for employees to speak up about potential safety issues without feeling like there would be retribution against them. An open and honest communication loop between employees and management is key to preventing injuries.
9. Monitor Safety Efforts
It is important for companies to monitor their safety efforts. There is no way to know if your efforts are being effective if those efforts are not monitored and tracked. This way, management can allocate resources to programs that are effective and address those programs that are not producing the desired outcomes.
Consider a Workplace Injury Prevention Program
Developing a comprehensive injury prevention program, identifying workplace hazards, and helping employees reduce their personal risk of injury through PPEs, proper ergonomics, and behavioral changes can make a big impact to both the employee's health and the company's bottom line.
At Briotix Health, we build relationships with you and your workforce to deliver meaningful results in employee health. We focus on musculoskeletal injury and disability prevention; leveraging customized next-generation technology to optimize results. Contact us today to establish your injury prevention program.