An upscale, international hotel was exceeding the national average of workers' compensation claims per 100 employees substantially and trending in the wrong direction. In just two years, the net incurred total claims was more than $3,024,000. Direct costs were only part of the story. Indirect costs included time to investigate claims, downtime, decreased productivity, retention, overtime, and equipment/property damage.
After taking a look at all of the data, the company realized it would take just under $8,000,000 of hotel revenue to offset the costs of their experience of those two years. The company recognized workers' compensation costs needed to be addressed and decided to look for a proactive approach to the problem.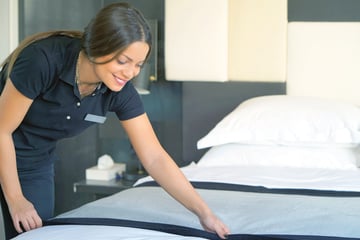 Finding a Proactive Injury Prevention Solution
After researching potential solutions, the hotel company decided to go with Briotix Health and our comprehensive Industrial Sports Medicine program. With the full support of company management, a Briotix Health provider designed a customized job coaching, ergonomic risk reduction, and education program that targeted the exact needs of hotel employees.
Job Coaching
Though job coaching, the provider impressed upon the staff the importance of keeping their bodies healthy while working one-on-one with staff members to demonstrate how to complete tasks in a way that reduce the risk of injury. Specifically, time was spent teaching staff how to properly complete their tasks in an efficient way that optimized performance and prevented awkward body positions.
Ergonomic Risk Reduction
Additionally, the provider spent time was proactively assessing different workstations in the operations as well as in the offices, recommending ergonomic changes where needed. These changes included behavioral changes, equipment changes, and workstation set-up changes.
Education
The provider attended monthly safety meetings to train managers to stretch properly so they could lead the exercises during their pre-shift meetings. As part of the on-going education training, a Superhero Program was rolled out and provided an opportunity for employees to recognize one another for demonstrating safe techniques and risk reduction strategies. Because the staff was involved, from top to bottom, team members bought into the training and took ownership of their own injury risk reduction.
Results Show Reduction in Workers' Compensation Costs and Claims
Within the first six months of the program, the hotel reduced their costs of claims by 65% to just $177,000. Additionally, the number of workers' compensation days dramatically with several departments have zero claims for at least 200 days.
Learn More about Ergonomic Injury Prevention
To learn more about how an Industrial Sports Medicine solution can be customized to your workers to improve employee health and workers' compensation costs, contact Briotix Health.