With millions of kids out of school for the remainder of the year, distance learning has become a key activity in homes across the states. From first graders through high schoolers, children are having to learn how to best complete their assignments outside of the classroom.
Creating a safe and healthy workspace by teaching proper ergonomic positioning, can not only improve your student's productivity but also prevent aches and discomforts in the future.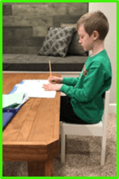 Parents play a critical role in helping a child learn healthy habits when working. Whether reading a book, working at the computer, or even playing a video game, establishing proper ergonomic habits will protect your child from injury throughout their working life.
To help your child learn to work in an ergo-friendly manner, here are a few dos and don'ts:
Do: Sit upright and use a pillow or rolled-up towel to support your lower back.
Do: Tilt your keyboard to keep your wrists straight when typing
Do: Use a sturdy box or bin to bring your computer or tablet screen closer to eye level
Don't: Lay on the floor for a long time
Don't: Curve your back by putting your book or device on your lap.
Children's bodies certainly are flexible but their rapidly developing bodies thrive with movement. That's why children need to maintain a healthy posture when working but also include breaks throughout their workday to get the blood flowing to their muscles. Here are a few suggestions for ways to add movement to your child's day:
Change working locations throughout the day.
Move or stretch every 20-30 minutes. Set a timer to make sure you remember to move.
Get active. As allowed by social distancing, take walks or hikes, set up an obstacle course, or create a scavenger hunt.
To help parents teach their children how to practice ergonomic principles while working, we've created a free handout with visuals and a fun ergonomic scavenger hunt that can be completed to find all of the tools they will need to create their healthy workspace.
If you have questions on setting up your temporary workspace to be ergonomically friendly, you can try our free online office ergonomic portal, BxPro Virtual Office, to access free training videos and handouts. Visit https://virtualoffice.briotix.works to login.