Did you know that the average workers' compensation cost of a lower back injury is more than $9,000? Or that research indicates employers pay almost $1 billion per week in direct workers' compensation costs?
If you're looking to reduce your workers' compensation spend in 2020, this free webinar download will provide you with practical, hands-on tips to reducing the number of musculoskeletal-related workers' compensation claims your company experiences in 2020.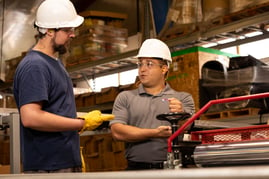 The 1-hour webinar provides attendees with proven tips for reducing an employee's risk of suffering from a musculoskeletal injury with scientific-based injury prevention techniques which can be put in place immediately.
In this webinar, you will:
Identify the costs of common musculoskeletal injuries that are affecting your company's workers' comp costs
Understand how injury prevention techniques can be put into place to reduce the risk of employees suffering musculoskeletal injuries
Learn five easy and affordable ways to impact workers' compensation costs in 2020.
To learn more about how musculoskeletal injury prevention can significantly reduce your workers' compensation costs, download the free webinar now: