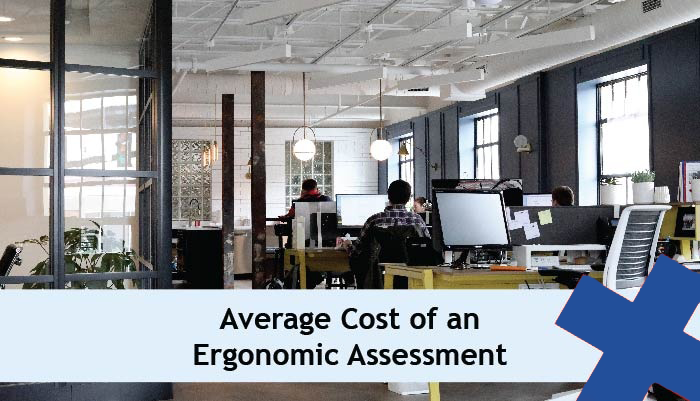 Workplace injuries can create a cascade of problems for your workers and your company, but many of them are easily avoidable with if you take the right precautions early on. An ergonomic assessment can help to identify occupational hazards facing your workers and can be used to develop effective strategies to mitigate them. This can reduce overall costs while even boosting productivity and morale among workers. An ergonomic assessment can pay for itself many times over, which means it's important to learn about what it can mean for your company.
Average Cost of an Ergonomic Assessment
The cost of an ergonomic assessment will depend on a variety of factors, including the size of a business, how many people it employs, its industry, and what kinds of injuries you need to reduce. For example, assessments for offices are typically less expensive than those for larger businesses which are heavily reliant on physical labor such as factories or warehouses. According to an August 2014 report by Humantech, ergonomics assessment and training costs between $100 to $1,000 per employee.
Related: What Is Ergonomics? (Plus Its Importance in the Workplace)
Companies conducting ergonomic assessments often offer a variety of different pricing options depending on the needs of a particular client. Some may charge an hourly consulting rate, which is ideal for smaller businesses, or may be kept on retainer by larger businesses for a higher flat fee. Some may require a percentage of the amount of money your business saves from workers' compensation claims. It's important to purchase the assessment appropriate for your business.
What Goes Into an Ergonomics Assessment?
While the specifics will vary depending on the needs of your business, most ergonomic assessments follow a similar pattern. A consultant will visit your business and will usually observe your employees at their workstations. They will look for any behaviors or deficiencies in workplace setup which can lead to discomfort, sickness, or injury. They will usually visit every employee individually to observe them in their workstation while performing their normal work duties.
Some ergonomics assessments are designed to prevent injuries, especially musculoskeletal disorders (MSDs), before they happen while others help injured workers back into your business. You may learn you need to improve general working conditions or introduce ergonomically designed equipment. Your workers can also learn about behaviors they need to change or adopt such as their posture or stretches which may prevent injury. The consultant will make recommendations to improve safety and productivity based on their observations and best practices.
Related: 5 Common Ergonomic Problems and Solutions
Cost of Ergonomics in the Workplace
In order to determine how much your company can benefit from an ergonomics assessment, you'll want to take a look at what it spends on worker's compensation claims. This is the simplest measure of how much you can benefit from an assessment, but it's not the only one. An ergonomic assessment may also reduce waste and absenteeism while improving overall productivity. It may also help to boost morale by providing a better working environment and may also reduce turnover rates.
When budgeting for an ergonomic assessment, you'll want to take into account the array of potential benefits your business can realize. This may make you more inclined to pursue a more thorough assessment depending on the needs of your business. Ergonomics can have a great impact on workman's comp claims, absenteeism, and employee morale or turnover.
Ergonomic Cost Benefit Analysis
In addition to making your business safer, an ergonomics assessment can also make it more profitable. The Washington State Department of Labor and Industry reports that on average an ergonomics assessment will pay for itself in about 8.4 months. Businesses report an average increase of 25% in productivity and a 67% reduction in errors after an ergonomic assessment. Most importantly, an assessment can reduce workplace injuries by an average of 65%.
When properly conducted, an ergonomic assessment can help your company reduce injuries and save money on employee compensation claims. It serves to optimize the health of your workers as well as their workflow, reducing injuries and absenteeism and improving overall productivity in your business. This means that even businesses with low rates of injuries can serve to greatly benefit from an ergonomic assessment. It can not only protect the health of your workers but can also dramatically improve that of your business.