The simple act of walking has powerful benefits to your health and with summer in full swing, the weather is perfect for enjoying a nice stroll outside. Enjoying the summer weather with a walk can lead to many health benefits - weight loss, lower blood pressure, stronger muscles, and improved mood and energy levels.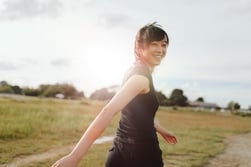 According to research from Harvard University, walking for 2.5 hours per week, just 21 minutes per day, can cut your risk of heart disease by 30%. Additionally, because of the associated health benefits, it is estimated that walking regularly could save Americans more than $100 billion a year in health care costs.
Walking to Improve Your Health
To maximize your walking benefits, here are a few tips to keep in mind.
Aim to walk at least five days a week

Warm up and cool down with a 5-minute, slower paced walk

Begin at a comfortable pace, gradually picking up speed until reaching a brisk 15-20 min/mile

Breathing rate should increase but holding a conversation should be manageable

Increase total walking time by 5 minutes/week until you reach 30 min/day

After 12 weeks, aim to walk briskly 30-60 min/day, 6 days/week
Walking Safety Tips
When heading out for a walk, it's important to ensure you are doing so safely. With a few proactive preparation steps and safety actions when out and about, you can ensure your walk is not only enjoyable but also low risk.
Drink water before, during, and after walking

Wear comfortable, supportive shoes

Use sidewalks when available

Walk facing traffic, but as far from it as possible

Be mindful on uneven terrain to maintain balance

Use well-lit paths at dusk/after dark

Wear light-colored, reflective clothing

Carry a flashlight/phone

Notify someone of whereabouts and expected return
Proper Walking Technique
While daily walking has many benefits to your health, doing so in proper form is key to avoiding musculoskeletal injury. So what is proper form? Check out our diagram and instructions below.

Keep head upright looking ahead.

Keep chin tucked in and shoulders relaxed.

Heel strikes first, followed by rolling onto ball of the foot, finishing with a strong push off toes of trailing foot.

Focus on quicker rather than longer strides when picking up pace, keeping the movement smooth.

During stride, forearms should brush hips with elbows bent and hands coming just below chin level.
With a few quick steps, you can easily start walking your way to a healthy lifestyle and improved health.