Did you know, according to OSHA, more than 38% of all workplace injuries with days away from work are due to musculoskeletal disorders (MSD) such as sprains, strains, and tears. MSD injuries are entirely preventable with proper body mechanics coaching, ergonomic solutions, and individualized training. However, given the current workload of many occupational nurses, there is little to no time to proactively address the risk of these preventable injuries.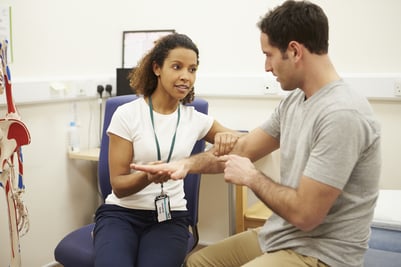 Why an External Ergonomic Partner
Establishing a proactive injury prevention program with an external expert is one way companies are addressing the current workload of their occupational nurses. Reducing the workload of onsite occupational nurses allows the nurse to provide the first-line of triage, and the partner can then offer job coaching to reduce the risk of injury and improve return to work/stay at work results.
Additionally, research indicates that when a company invests in their employees with an external ergonomic partnership, they see the following benefits:
Reduce employee injury rates and illnesses
Improve employee performance
Create a safety of culture
Optimize the role of an occupational nurse
Five Steps to Creating an Effective Ergonomic Partnership
Establishing an effective ergonomic partnership requires all parties of an organization to be on board and involved in the planning process. Below are five steps to creating an effective partnership.
Step One – Assess Where You Currently Are
To accurately determine where you need to go with your external partnership, you must first know where you are starting. Assessing your program allows for the identification of gaps in current offerings and ensures the proper allocation of resources. A comprehensive assessment will include:
Measure current participation levels
Measure current satisfaction levels
Measure organizational support
Measure productivity and performance levels
Measure financial outcomes
Step Two – Define the Goals of Your Program
The best ergonomic programs are created when employees of all levels are involved in strategic planning. This ensures achievable goals are defined and assists with getting buy from all employees.
When establishing the outcomes, make sure you create processes to appropriately measure your company's progress towards the goal. Effective wellness programs are continuously growing and adapting based on employee need.
Step Three – Define How you will Use External Experts
As discussed above, an external partnership allows for a number of benefits within the organization. However, those benefits are only fully realized if the organization has a clear definition of how best to use an external partner to achieve their goals. One easy way to determine how to best use an external resource is to answer these two questions:
At what point in the process do you involve the external partner?
How much do you want and need to take off your plate to achieve your organization goals?
Step Four – Establish Best Practice Processes
Effective processes are defined prior to the start of the program and ensure all parties are clear on their roles and responsibilities. The big question to ask when creating your program's processes is "how can you use everyone to their best capabilities?"
Are you nurses spending more time on administrative tasks or working with employee injuries?
Is the administration handling the reporting and are they properly assessing the programs?
What resources can you allocate to meeting employees on the floor to proactively address injury risks?
Step Five – Frequently Assess and Measure Results of your Partnership
To see the maximum benefit from an external ergonomic partnership, your established program should be frequently assessed to ensure you are meeting the goals you've established. Depending on the desired outcomes, programs should be monitored monthly to make necessary changes.
Real-time data is a critical element in properly assessing the program and allows for true strategic decisions making. If management does not have access to data, the success of the program could be hindered.
For organizations who are unsatisfied with their current injury prevention protocols but are unsure if an external partnership is the way to go, ask yourself:
Are we allocating our resources effectively? If not, what is one thing I can do to make a change?
How could a partnership with an ergonomist/early intervention specialist impact the health of my employees?
If you'd like to learn more about how Briotix Health can partner with your occupational nurse to proactively address workplace injuries, contact us.