Our Executive VP and Founder, Bob Patterson will be co-presenting on February 14th, 2017 at PARMA 2017 Annual Risk Management Conference in Anaheim on Leveraging Technology to Optimize Injury Prevention, Employee Health, and Satisfaction in Public Agencies - A Case Study.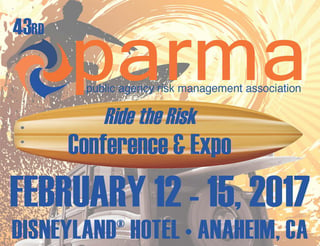 A summary of the session is below:
The use of technology to document and benchmark enterprise and other organizational levels of risk may not always address the fundamental aspects of employee engagement, behavioral change, and empowerment that may be necessary to drive order of magnitude reductions in health and safety risk. The County of Los Angeles has embarked on a journey to leverage technology as a primary training, risk assessment, risk reduction, and data management tool for office work environments. The goal of the county's programs are to reduce the cost of ergonomic risk reduction by transitioning from a transactional intervention to one where health and safety risk is managed on a broader, enterprise base incorporating technology to comprehensively address risk. The desired effects of this transition are reduced cost of ergonomic risk management, reduced workers' compensation experience and costs, enhanced employee productivity, and improved employee engagement/satisfaction.
This session outlines the fundamental premises of the county's program and its goals for utilizing technology to drive further improvements in important loss and cost metrics now and into the future.
If you are in the area, or attending PARMA this year, consider stopping by to listen to this case study. We also invite you to contact us and we can answer questions and offer solutions to your organizational challenges.