Have you recently found yourself working from home? If so, your temporary office space is likely a place you find yourself spending significant time.
To help those who have recently found themselves working in a temporary home office, Briotix Health is offering a series of free webinars on how to set-up your desk and office space to reduce the risk of developing preventable musculoskeletal injuries.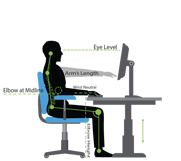 Research suggests that 72% of office workers spend at least 6 hours per day at their desks. This amount of time can lead to musculoskeletal aches and discomforts. Ensuring your workspace is set up in an ergonomically correct manner can help avoid potential musculoskeletal injuries to your back, neck, and wrists.
To learn more about how to set-up your temporary workspace, join us for the free webinar "How to Set-Up Your Temporary Home Office to Avoid Muscle Aches and Discomforts" on one of the dates listed below:
Thursday, March 26th at 3 p.m. EST
Tuesday, March 31st at 3 p.m. EST
Thursday, April 2nd at 3 p.m. EST
Sign-up now to reserve your spot. Webinars are limited to 100 people per session.