Many employees around the globe have found themselves working from a home office in response to the COVID-19 pandemic. Setting up that office in an ergonomically correct manner helps reduce the risk of developing muscle discomforts and injury.
In our free podcast, "Setting Up an Ergo-Friendly Home Office", Certified Ergonomist Kristianne Egbert discusses the steps you can take to create a workspace that allows you to sit in an ergonomically neutral position for the greatest risk reduction.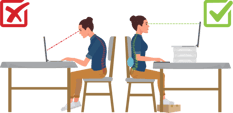 In this 15-minute podcast, listeners can expect to learn:
Why finding neutral positioning is the best way to reduce the risk of injury when working in the office.
Tips for adjusting home-office seating, laptop positioning, and keyboard location to prevent strain.
Suggestions on how to use common household items to create an ergo-friendly office.

If you'd like to learn more about how Briotix Health can help your workers set up an ergo-friendly home work space or to set-up a one-on-one virtual ergonomic assessment, contact us.