Did you know that a workforce can lose up to 50% of their physical conditioning in just two weeks of low activity?
Due to the COVID-19 pandemic, many companies were forced to shut their doors for weeks, displacing workers in the process. Now, as states begin to re-open, companies are preparing to bring back employees, however, managers may be left wondering if their workforce is physically prepared to return to work.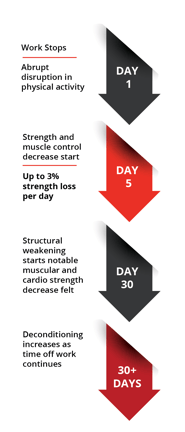 The Physical Deconditioning Process
Research indicates a workforce's physical preparedness to return to the work environment, after weeks of inactivity, is significantly impacted. The physical deconditioning process begins to impact a person's muscle strength and control within 5 days of not using that muscle. After 30 days of disruption to physical activity, a person will likely experience a significant weakening in muscular and cardio strength.
For company leaders, ensuring your workers are fit to physically complete the essential functions of their job is critical to companies looking to avoid both return-to-work injuries and prevent further delay in getting back up and running.
Access the free Work Re-Entry Portal
To help companies tackle the deconditioning process, Briotix Health is offering a free Work Re-Entry program to Working Athletes throughout the continent to restore physical conditioning as they return to their jobs.
For access to relevant conditioning exercises and video training, you can access our free Work Re-Entry Portal. Accessing the portal is easy:
Step 1: Visit https://briotixprosystem.briotix.works/
Step 2: Complete employee registration and consent form.
Additionally, through the Work Re-Entry Portal, you can request a consultation for customized exercises for your specific job function.
Access limitations may apply. Please contact covid19response@briotix.com to ensure full access for employees of large workforces.