Cheryl Schwientek, Associate Ergonomics Professional and Briotix Health Program Manager, was recently featured in an article for OHS Canada. In the article, she outlines best practices in ergonomic safety for remote workers.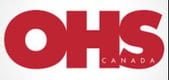 Schwientek, a remote worker herself, with more than a decade of experience in office ergonomics, explains the risk of upper-body injuries to the neck, back, shoulders, hands, and wrists. She went on to explain how these risks are exacerbated when office equipment – such as desks, chairs, computers, and lighting – aren't set up properly.
"Employers and their employees need to go into this realizing that they're going to be working from home for a long period of time. It shouldn't be considered as temporary anymore and businesses need to invest in properly equipping home offices.
In addition to proper set-up, Schwientek emphasized the importance of movement throughout the day to reduce the risk of injury. She encouraged people to move during even the smallest breaks in their day such as waiting for participants to join a meeting or call.
The article concludes with suggestions for how to effectively communicate ergonomic risks to employees.
The article can be read in its entirety by visiting the OHS Canada website. To learn more about how Briotix Health can help your remote workers create a safe and ergonomically friendly workspace, complete the contact form on our website.