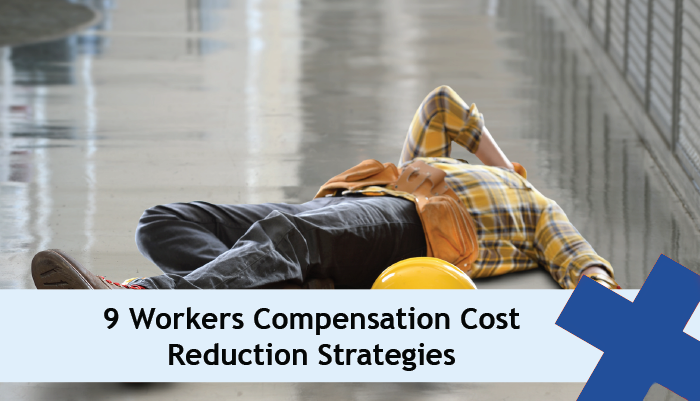 We all want our employees to be healthy, happy and safe on the job. But as responsible employers, we know that accidents can and do happen, even on the most safety conscious job site.
To prepare for these inevitable accidents, we must provide our employees with adequate workers' compensation benefits. Having a reputation for coordinating quality workers' comp policy also helps to draw potential employees to your company. However, the costs for these types of policies can become burdensome.
Luckily there are strategies you can take as an employer or administrator that can reduce the cost associated with providing workers' compensation benefits to your employees.
How to Reduce Workers' Compensation Costs and Premiums
The way that your worker's compensation cost is calculated is a straightforward formula. Your rate is decided by a few factors, the state in which your company is located and the type of business you own. Then this rate is multiplied by your total payroll and then divided by 100.
Your rate is heavily dependent upon the type of business you own. A manufacturing plant will have a higher rate than a beauty supply store. This is why it is so important that your business is classified in the right category so that you pay a fair and reasonable rate.
Your cost is further computed by being multiplied by a modifier. Modifiers can save you some money. Now, what exactly is a modifier? Your costs can be reduced, or increased, based on the modifier. The modifier is based on your loss history. A history in which you have measurably reduced the risk of injury for employees would result in a modifier of 1.0 or even lower. A history in which there have been several safety-related incidents would result in a modifier higher than 1.0. Achieving a modifier of 1.0 or less will reduce your workers' compensation costs.
You can reduce your costs and premiums by lowering your modifier. Here's how.
Workers Compensation Cost Reduction Strategies
Here are some fundamental and simple things your company can do right now to reduce the amount of money spent on implementing workers' compensation policies.
1. Save Money on Workers' Compensation Insurance
Just like choosing your car or health insurance, it's important to shop around for the best workers' compensation insurance policies. If you live in a state with a competitive market, as most are, then it would be a good idea to speak to several companies about the monthly rate they are willing to offer you and your company. Smart business owners may do this every few years, as different companies will change their prices to attract companies away from their competitors.
2. Ensure You're Following Workers' Compensation Claims Management Best Practices
Arguably, the most important thing a business can do is ensure that its claims adjuster follows best practices associated with claims management. This can reduce the amount of payout by up to 50%. This kind of savings is crucial to any business. These 'best practices' include simple tasks, such as making in-person contact with the employee and perhaps medical personnel in order to address any issues that may arise quickly. Making sure that all paperwork is filed in a timely manner, verifying coverage and keeping a daily diary of all work completed on the claim are just a few ways that an adjuster can make the entire process move smoothly as well as save you money.
3. Focus on Safety
One great way to reduce the costs associated with workers' compensation and improve morale at your company is to cultivate a culture of safety. Creating a culture of safety is easier than it sounds. You are already probably doing some of this work. First, make sure you continually provide your employees with essential safety knowledge resources and best practices. If you don't have them already, institute safety checks at regular intervals. Regular safety checks throughout the day are vital as they help to keep employees thinking about safety any time they are in the workspace. More comprehensive safety checks can be scheduled weekly and/or monthly. Focusing on safety will not only reduce the number of accidents and injuries among your employees, but it will also show them that you care about them and their safety.
4. Have an injury procedure in place.
It's essential to manage any injuries quickly and effectively before they become worse. Part of having a culture of safety has a proper plan in place in the case of an onsite work injury. This plan would include immediate actions to be taken by supervisors, other workers, and the claims adjuster. Everyone should be assigned a role for this process to run smoothly. Having a plan in place empowers your employees to make decisions that can reduce the severity of workplace injuries. It also reassures them, should they ever be injured, that the company and their co-workers will know what to do.
5. Start an Incentive Program for New Hires.
Employees, especially new hires often benefit from incentive programs that reward them for learning the safety protocol. Older employees can also be encouraged to help the newer hires learn about the culture of safety through group incentives.
6. Implement a Return-to-Work Program
Research has shown that companies who are in contact with injured employees during their time away from work are more likely to have lower costs associated with workers' compensation claims. It's a good idea to have a program that encourages employees to return from work as soon as their injuries allow. The company will pay less the quicker an injured worker is back at work earning a paycheck. In this scenario, everyone wins.
7. Check With Your State
While it's true that each state will have different rates for your classification of business, it's also true that your state might be able to offer you the type of discount. You should check to see if your state will provide employer workers' compensation discounts if a company implements a program that promotes safety. For instance, some states will offer a discount when employers support a drug-free workplace.
8. Review Your Employee Classifications
This suggestion might be so simple that it is over looked. While it's true that each type of business will have a different overall rate, each kind of employee will also have differences in the cost associated with their classification. For example, a sheet metal worker will have a different standard than your bookkeeper who is rarely on the manufacturing floor. Make sure that each employee is classified correctly in their current job within your policy. This simple tip can save you quite a bit of money.
9. Safety Rewards
After starting to implement some of these ideas, you may notice a reduction in workplace accidents. Check with your insurance provider to see if they will give you credit for having had a year of improved safety. These types of safety rewards are usually paid out after a policy has expired, and after having one year of fewer claims. These rewards aren't guaranteed, so it's good to check with your provider to see if safety rewards are available.
Workers' compensation is a necessity for any business. But it doesn't have to be a complete financial burden to keep your employees safe. There are many ways to encourage safety routines and programs that will help you to reduce your workers' compensation costs. When proper claims management best practices are in place and followed, your employees will be able to return to work as soon as medically allowed. Not only will production return to normal, but your workers' compensation fees will be reduced. Proper management can go a long way to finding savings opportunities for your business.