Time lost due to a worker's personal injury reduces productivity, costs money, and can negatively affect a worker's perception of his or her job and employer. And the detrimental effects do not stop there. The injured employee is at risk for physical and emotional distress that hinders recovery. His or her co-workers are at risk for an increased work load, increased risk of injury and/or a reduction in morality. Management-employee relations often become strained and the financial consequences are commonly felt company wide. Effectively helping your employees prevent injuries at work, and treating them if they do occur is critical in minimizing the negative impact of a work-related injuries.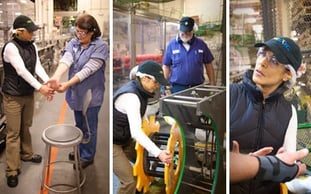 One critical factor in how a work-related injury affects a company is how quickly the employee returns to work. A speedy return to work benefits everyone- the injured employee, his or her co-workers, and of course, the employer. For the injured employee, the familiar concept of "use it or lose it" has been bolstered by studies showing that increased time spent off work prolongs the healing process and makes an eventual return to work more difficult. The ability to work is an important part of an employee's identity, self-esteem, and ability to support one's family, making a quick return to work imperative. Further, the way a company responds to an injury is extremely important in employee's perception of the company and their overall job satisfaction. A caring company will foster caring and hardworking employees.
So what is the right response?
Although there are many factors that are important in a company's response to an injury, physical therapy is the key in restoring function by improving employees:
Fitness
Strength
Flexibility
Restoring lost function is the key to returning an employee to work, and Physical Therapists are the experts in improving physical function. The sooner an injured employee can be seen by a Physical Therapist, the better. In fact, onsite Physical Therapy is a strategy that companies use to provide an immediate intervention that enhances outcomes by providing therapy in the work setting on real work tasks.

Onsite Physical Therapists can provide job specific, employee-specific job coaching to assess gaps between the physical demands of a job and the capabilities of the injured employee as they are healing. The Physical Therapist can provide education in proper:
Body mechanics
Counter-balance stretches
Best Practice
Such education not only facilitates an employee returning to work after an injury, but reduces the risk of re-injury. Most importantly, onsite physical therapy restores an employee's confidence in their ability to work pain free, which makes returning to work feasible and desirable. A successful and supported return to work for one injured employee will be noticed by all. The benefits in employee morale, job satisfaction, and productivity by the injured employee and his or her co-workers will far outweigh the direct cost associated with the care of one employee.